1.3 Overview
SoftProjector consists of three main parts: Schedule, Prepare area and Live area.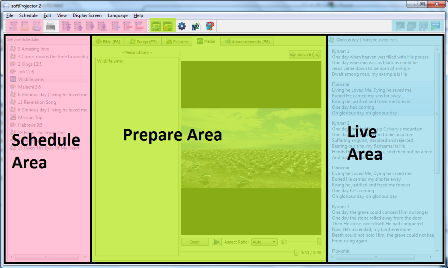 Click on image above to view larger
Schedule Area:
Schedule allows you to organize presentation item(Bible verses, songs, etc) in order. You can add any item and organize in the order you need. Schedules can be saved and printed. More about schedules on schedule page.
Prepare Area:
Here you find what you want to present. Preview the text/images/media. Any interaction here will not affect live presentation until click "Go Live" Buttons. When an item you want to show is ready, you click "Go Live" button and then this item is moved to Live Area and displayed on the screen. More about prepare you can find on showing pages.
Live Area:
Live are in the control of the screen. It control what is on the screen. Any changes here will immediately(when "Showing" is live) appear on the screen. More about live area can be found on showing pages.